On her family's farm at Tickera on South Australia's Copper Coast, Emily Donnell is putting up a Christmas farm gate display for the fifth year.
She usually sketches the rough idea, thinks of a theme, looks around the farm for materials to use before she and the family get to work.
This year eight-year-old Lachlan took over the spray can duties and painted Santa's bright red coat on the family's canvas of choice — a few hay bales.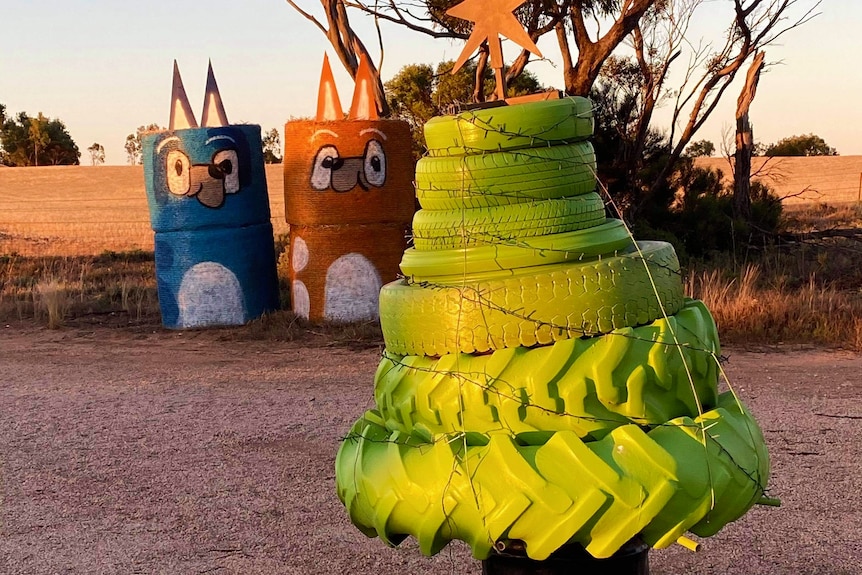 "The locals look forward to seeing what we do each year," Emily said.
"A couple of families even try to sneak a look at what we are up to."
Last year, the Donnells transformed a couple of hay bales into the famous duo Bluey and Bingo from ABC's TV Bluey.
Emily said they had positive comments from people as far afield as Germany.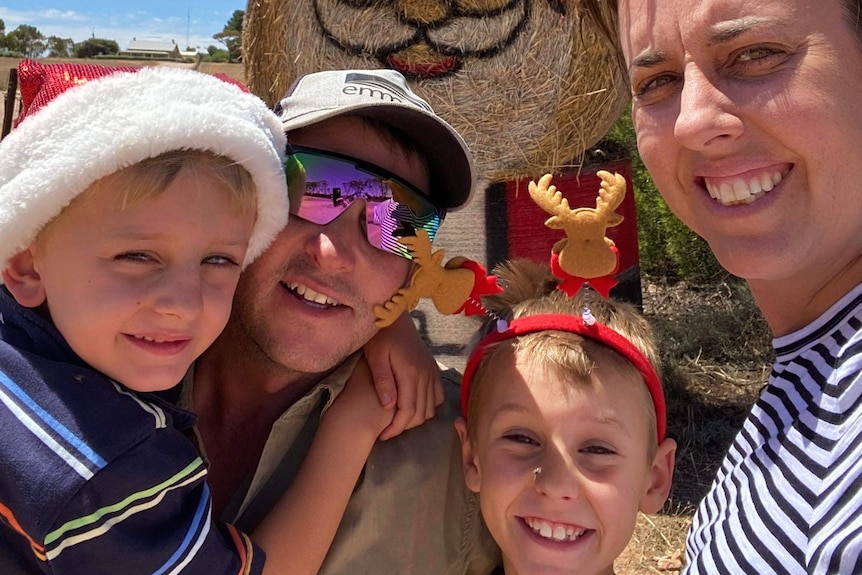 Re-use, re-gift, recycle
Emily originally got the idea while on holiday in South Australia's South East, where she saw the community get together for a Santa display competition.
The family's first display was a Christmas tree made out of old tyres, and it's still one of her favourites.
"We don't throw away a lot on the farm. You never know when they might come back to use," she said.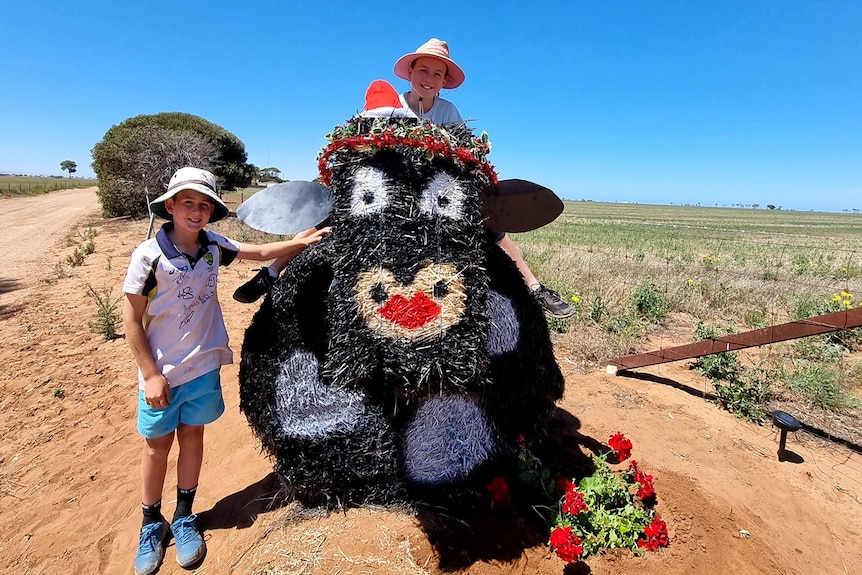 Dreaming of an outback Christmas
The origins of the farm gate Christmas display can't really be traced, just like it would be hard to find the original person who strung up Christmas lights outside their house. 
But it's something that has been giving passers-by something to smile about in remote corners of the country for years.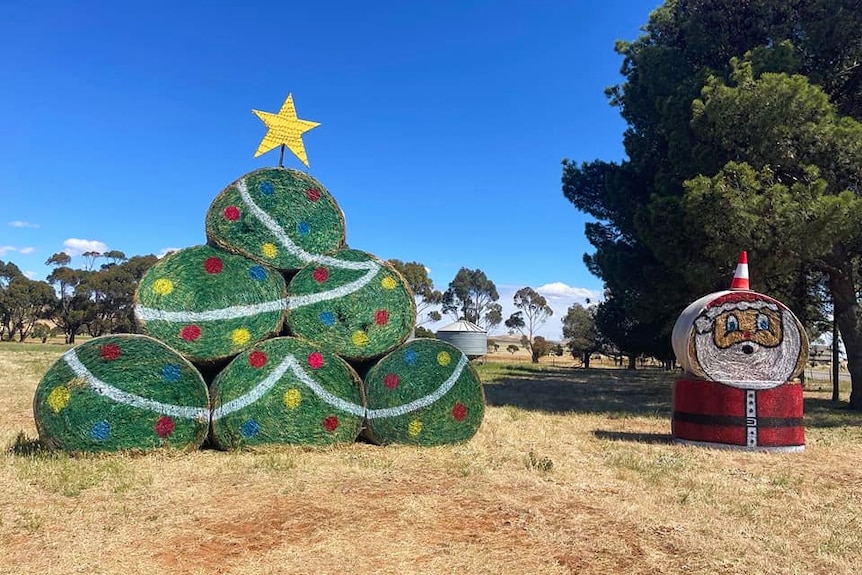 In Far West NSW, Greg and Lily Martin have put together their sixth farm gate display at Nelia Gaari Sation.
Greg said this year's display almost did not happen due to COVID-19.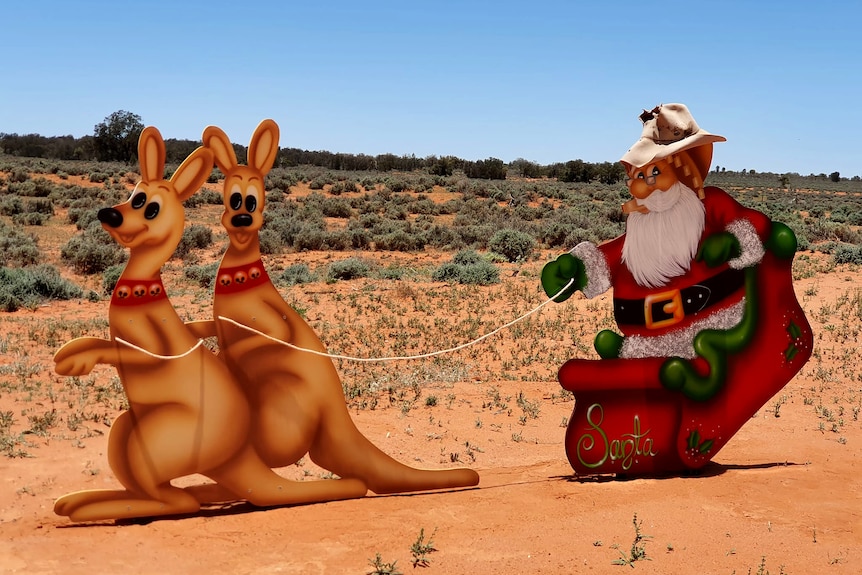 The main jewel, a wooden cutout of Santa Claus being pulled by kangaroos instead of reindeer, was sent from overseas.
This piece, however, is the only purchased item in the display against the red desert backdrop. 
'I had no idea what she was talking about'
A 100-year-old rusted piece of farm equipment, which is also part of the display, almost eclipses the overseas import.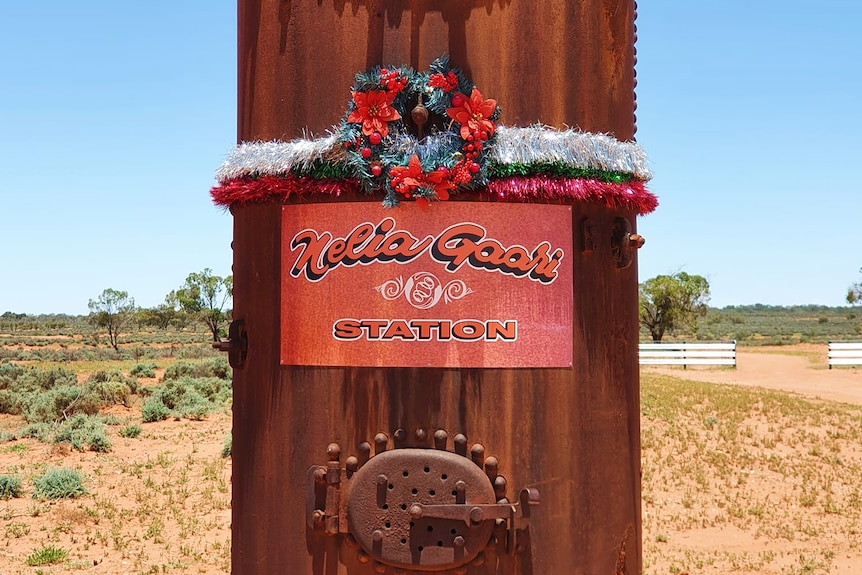 "It was just as a lump of scrap metal, an old steel rack. I had driven past it a million times," Greg said.
"I had no idea what she was talking about until I went out and had a look."
Greg and Lily have decorated it with Christmas ornaments.
"Now it's a Christmas tree," he said.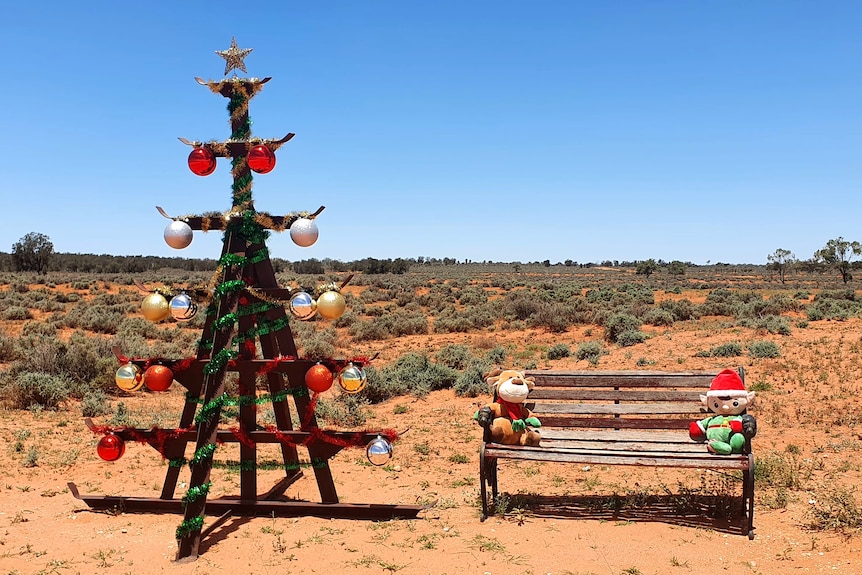 Greg said they started creating the displays for their 10 grandchildren to see on their visits to the station.
Though there will be no visitors to Nelia Gaari this year, Greg is pretty happy when he catches someone slowing down to take a peek at his work.
"Oh look, you don't sit at the farm gate and wait for it, but you do catch 'em slowing down."
How farmers are turning junk and hay bales into festive cheer
Source:
Source 1