A COVID-19 outbreak in an Illawarra aged care centre has claimed the life of a fully vaccinated man in his 90s.
Key points:
There are 15 residents with COVID-19 at the care centre and six residents in Wollongong Hospital
Four employees have also tested positive but management says vaccination rates have slowed the spread
The source of the infection remains unknown
IRT chief executive Patrick Reid expressed his condolences to the family and friends of the IRT Tarrawanna Aged Care Centre resident.
Mr Reid said man had very mild symptoms prior to his sudden passing.
"He was what we call between the flags, this gentleman — he was stable and quite well and up until his passing," he said.
He said the family offered some feedback on  their father's care and thanked the staff for support during a conversation yesterday.
A total of 22 residents and four employees at the facility have tested positive for COVID-19, including two residents and an employee in the last 24 hours.
There are 15 residents with COVID-19 at the care centre and six residents in Wollongong Hospital.
Mr Reid said some other residents had been transferred to other health centres as a precaution.
"At the direction of Commonwealth and state health authorities, we have also transferred 11 residents who do not have the virus, but whose rooms are located close to those who do, to Lawrence Hargrave Hospital," Mr Reid said.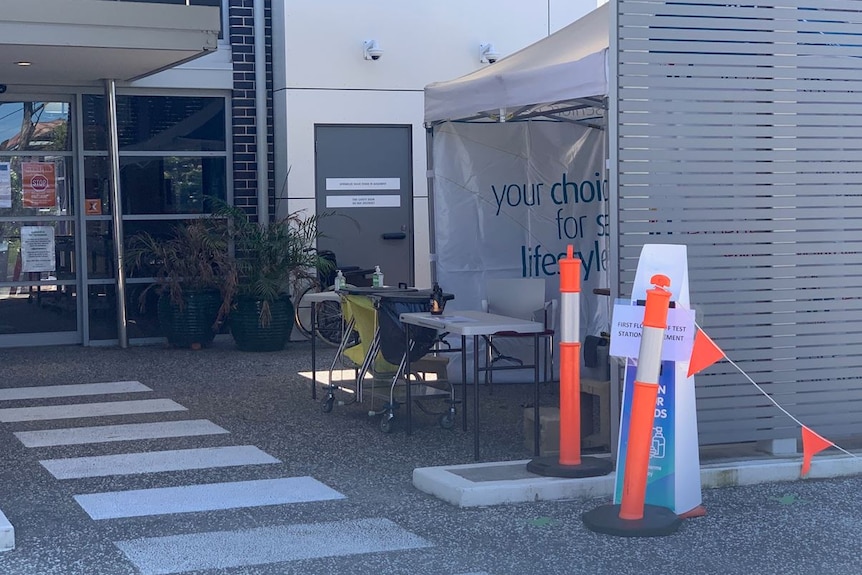 Outbreak's origin still a mystery
Mr Reid said only a few of the 93 residents had refused vaccination and all 99 staff had received the mandatory first dose.
"We are seeing the protective action of the vaccine," he said.
"Comparatively to last year, the first COVID outbreak, the symptomology of it has improved, but also too the spread is not quite as fast as we saw in the first outbreak."
Mr Reid said it was still not known how the infection entered the aged care centre.
"We still don't have an index case, as they would call it, where we know absolutely how it entered the centre," he said.
"We continue to work with the Public Health Unit to assist them with their contact tracing, however there are no obvious signs pointing to a source at this stage," he said.
He said testing would continue until authorities were confident the outbreak was over.
IRT first became aware of the virus in the centre when it arranged for a resident with symptoms to be tested for COVID-19.
The results of that test were received late on October 6.
The New South Wales Public Health Unit will be responsible for determining how and when the centre's lockdown will be lifted.
Dozens of new cases in region
There were 26 new cases in the Illawarra Shoalhaven Local Health District (LHD) recorded in the latest reporting period.
There were 13 in Wollongong local government area, four of which were linked to known cases.
Shellharbour recorded 11 new cases, five of which have been linked.
The Shoalhaven recorded two new cases.
There are 35 local COVID patients being treated in hospitals in the LHD.
There have now been 2,262 local cases of COVID-19 in the LHD since the start of the current outbreak in June.
NSW recorded 10 deaths and 301 new cases in the latest reporting period.
Loading form…
Resident dies amid COVID outbreak at Illawarra aged care home
Source:
Source 1